Welcome to Dallington School
The original and only alternative, progressive family-run school in the heart of London, welcoming children from 3 to 11.
Our School was founded in 1978 by Mogg Hercules to offer an alternative, creative, child-centred learning environment to that of most schools of the time.
'The joy and reward of lifelong learning takes time. That time is called childhood, spent with people who understand and value it, in a stimulating environment that promotes it.' Mogg Hercules MBE – Founder, maverick, champion of alternative education.
We believe there is no rush to education. We champion independence and natural progression as an antidote to this increasingly frenetic educational world. Supported and challenged by exceptional teaching staff, our children have a voice, are allowed to make mistakes, question and challenge. These foundations lead to academic distinction and well-rounded, delightful people.
Our informal, holistic, highly creative environment nurtures curious, creative, confident, kind and enthusiastic lifelong learners. We make lovely adults!
Celebrating childhood since 1978.
"Dallington has a special something. It's very hard to put your finger on it, but it's absolutely there. It comes from a deep understanding of children, letting them enjoy their childhood, and learn who they really are."
Parent
A warm welcome from
James Griffiths – Head
I believe childhood is the most precious period in a person's life. It is our earliest experiences that help shape healthy and successful futures and this is why it is critical for schools to get education right. At Dallington we understand how fundamental this is. Our school is a habitat for creativity and wonder, where children are deeply engaged through a play- based, explorative and personalised approach to learning. We provide a holistic, child-centered educational experience and prioritise building strong relationships with both children and parents. These key ingredients enable our children's potential to be unlocked, ensuring they flourish at school and beyond both academically and emotionally as happy, confident individuals. Dallington is a school with children at its heart in the very heart of London and I feel privileged to be the Head of this vibrant school community.
We're parents ourselves, so we appreciate how difficult and daunting it can feel when you are choosing a school for your child. Choosing the right school is a crucial decision and we are here to help you at every step of the way. Please contact the Head of Admissions, Philippa Ireton on 020 7251 2284 or by email admissions@dallingtonschool.co.uk if you have any questions about the process.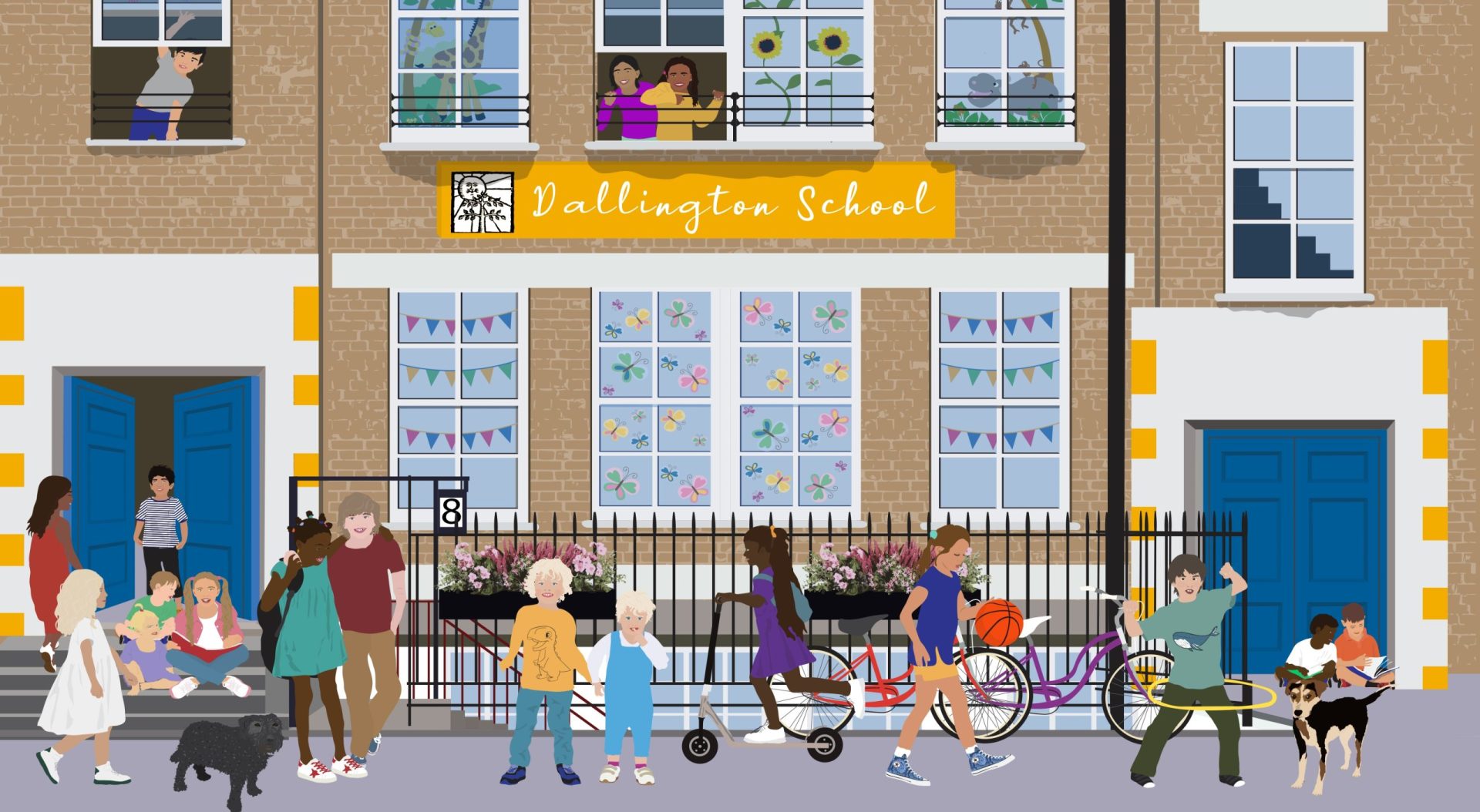 The staff – children ratio amongst the 3-5 year olds is 1:4, an unusually generous ratio which ensures that our experienced Early Years Foundation Stage (EYFS) team can give every child individual care and attention.
Our smallest people enjoy a safe, stimulating and fun environment where they are gently introduced to a routine for learning through play and child-led activities, helping them to grow in independence.
We aim to help children´s natural curiosity and eagerness to learn by offering a wide range of activities and subjects, alongside numeracy and phonics every morning. 
A typical week includes lots of Art, PE, Music and movement, regular French lessons, outside learning in local parks, as well as lots of self-directed play and activities.
There´s daily story reading together, as well as regular trips to the theatre. In the Summer term children in Upper Nursery start swimming lessons at the local baths.
In these important transition years, bridging the world of the Nursery and School, we aim to foster independent learning, develop key skills and nurture creative expression, all within  a supportive learning environment and through cross-curricular topic work. We continue to tap into children´s natural curiosity and eagerness to learn. Working in partner or small group setups, every child is given individual care and attention.
The curriculum offers the core subjects of English and Mathematics, with science, geography and history brought together into the topic chosen each term. This enables meaningful connections to be made between subjects. Creative Arts are an important part of the curriculum, as is French and the Performing Arts. Outdoor Learning (Urban Forest School) is embedded into the curriculum in these years, and children have the opportunity to learn about nature and the elements in it, as well as developing leadership and teamwork skills.
By the time children enter Middle School, they are able to take even more responsibility both for their own learning and as a group member.  Mathematics and Literacy continue to feature daily, and children can advance as quickly as they are able, with lots of individual help where needed.
With a cross-curricular, topic-based approach, children learn to develop their problem-solving skills and can undertake independent research, allowing them to become autonomous learners, which in turn builds their self esteem and self confidence.
A particular feature of our school is the experiential learning that takes place outside the classroom with many curricular-related trips to museums, art galleries, theatres and the zoo.
During this phase the school will start the process of analysing suitable secondary schools for children and will have meetings with  parents about the admissions process. We also prepare children for upcoming entrance tests, and help to keep the stress of this at bay.
Monday
Tuesday
Wednesday
Thursday
Friday
Saturday
Sunday

09:30

– 15:30

Year 5 & 6 Tate Modern Trip - A World In Common

10:00

– 11:00

Germ-Busters Education Team workshop

08:30

– 09:00

Ramzi's French Café

09:30

– 14:30

Year 5&6 Trip to the British Museum

10:00

– 12:00

Y5&6 Swimming Gala Cally Pool

10:30

– 12:30

Year 1 & 2 Trip to the Theatre: The Wolf, the Duck and the Mouse

09:30

– 11:00

Open Morning

11:45

– 14:15

Nursery Trip to Little Angel Theatre

13:30

– 16:30

Christmas Panto at Hackney Empire (Y3-6)

15:30

– 16:00

FoD Christmas Bake sale